The amusement and water parks in Pune are the perfect place to spend quality time with your kids and family. The majority of the amusement and water parks in Pune are coming up with the concept of setting up a multi-purpose amusement park that is further accompanied by swimming pools, restaurants, adventurous rides, and theme parks. Therefore, these amusement and water parks converted into resorts will enable you to have a wonderful experience outside and also make way for a memorable time with your loved ones. Pune houses the best water parks for kids that are not only well-decorated but also offer a surreal backdrop and setting.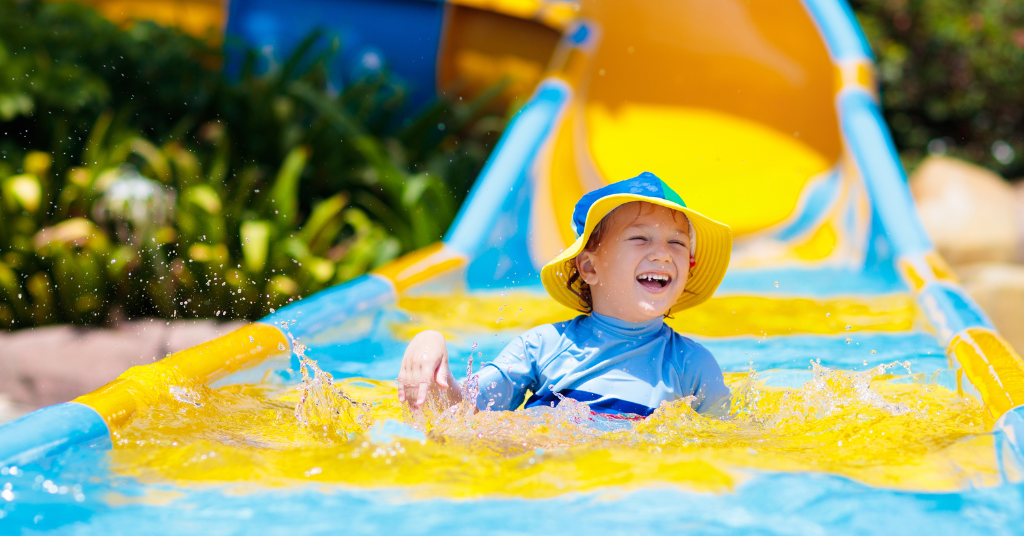 The water parks in Pune are cuddled between the mighty mountain ranges, and the city is seen bustling with a happy crowd throughout the year. People along with their kids and families come in groups to give their adrenaline levels a memorable experience. Moreover, the amusement and water parks in Pune are not just popular amongst the locals but also the tourists throughout the world with their irresistible packages of natural treatments and meditation.
So, to make the city of Pune fun for you, we have curated a very exciting and adventurous guide that will take you on a ride by taking you through some of the best water parks in Pune for kids.
Top 5 Water Parks for Kids in Pune
1. Imagica Adlabs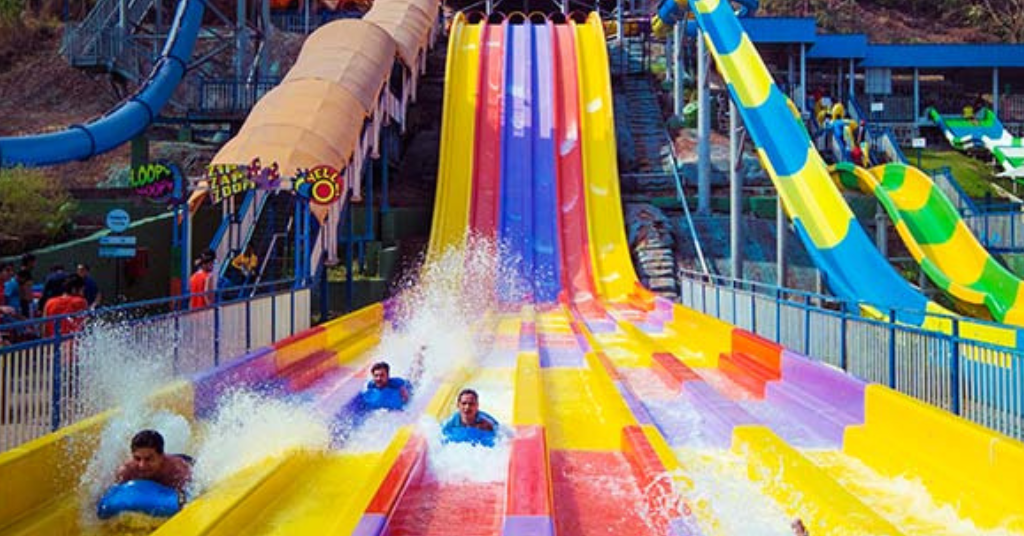 Well, Imagica Adlabs does not need any introduction because it is ranked as one of the best and the finest amusement and water parks for kids in India. The amusement cum water park was started in the year 2013, and within a few months, it became a popular choice amongst the kids as well as the families.
Imagica Adlabs is located on the Mumbai-Pune Highway and is your one-stop destination for all recreational activities. The beauty of this park is that it is nestled between the lush green valleys and offers stunning views. Furthermore, Imagica offers an extensive range of fun-filled rides for kids.
The park is divided into different zones that is the theme park, the snow park, and the water park.
Another factor that makes Imagica Adlabs the best amusement park is that it offers a myriad of activities for kids such as a magic show, live performances of acrobats, and hip-hop dance.
So, get ready to scream your hearts out by taking an adventurous ride on Nitro, a crazy roller coaster ride that will make your heart go round. Or you can also take the Zip-Zap Zoom slide and explore the underwater world.
Timings- 10:30 am to 6:30 pm.
Entry Fee- INR 599 per person.
2. Appu Ghar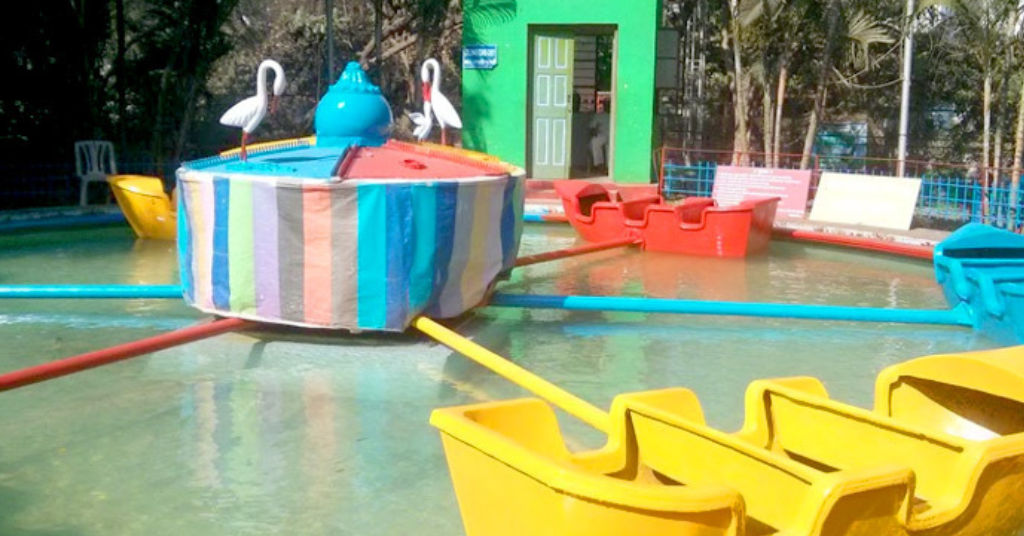 When it comes to the best water parks for kids in Pune, Appu Ghar is the real OG! We believe that Appu Ghar has been a sweet little memory of everyone's childhood.
The amusement cum water park is also known as the 'Mini Disneyland of Pune', and a trip to Appu Ghar is a real-steel deal as it is an amusement park cum water park for kids.
Appu Ghar is one of the oldest theme parks for kids in Pune, and its construction process was started in the year 1989 and got completed in 1992. The amusement cum water park is loved by the people of all age groups owing to its eco-friendly surroundings, and endless rides for kids as well as adults. It has been in existence for more than 20 years now, and it offers swimming pools according to the different age groups, and gender.
Some of the popular and evergreen rides that you can not miss out in Appu Ghar are Merry Cups, Guided Car, Striking Car, Bhoot Bangla, and Tele Combat to name a few.
And if by any chance you and your kids are not scared to challenge your guts, then you will have an amazing time on these rides- Appu Colombus, My Fair Lady, Big Roller Coaster, etc.
This is a perfect opportunity to make way for a retreating yet adventurous family time.
Timings- 12:00 pm to 8:00 pm.
Entry Fee- INR 350 for adults, and INR 300 for kids.
3. Diamond Water Park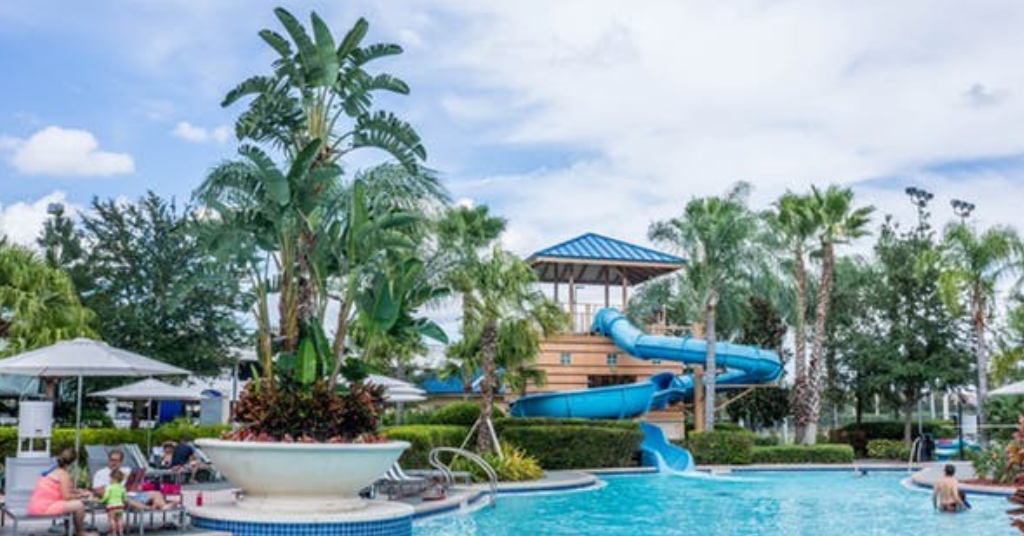 When you are looking for the best water parks for kids in Pune, don't miss out on the Diamond water park. The water park serves as the perfect attraction for all the recreational activities where you can have a nice time with your family, kids, and friends.
Families visit this water park mostly during the summer break so that they can seek relief from the scorching heat of the sun. The diamond water park is an ideal spot for organizing your family gatherings, picnics, parties, birthday and anniversary parties, and even the bookings can be made in advance.
The water park for kids in Pune offers a plethora of rides and slides for kids. There is also provision for food, safety, and entertainment.
The water park will be loved by your kids and they will thoroughly enjoy themselves in a wave pool, a kiddies pool, a dedicated family play station, and different types of water slides. Your kids can also participate in a range of different activities such as zorbing, archery, and rock climbing.
A visit to the Diamond Water Park will take you on a fun-filled water ride filled with new adventures and memorable experiences.
Timings- 10:00 am to 5:30 pm.
Entry Fee- INR 600 for kids, and INR 700 for adults.
4. Sentosa Resorts and Water Park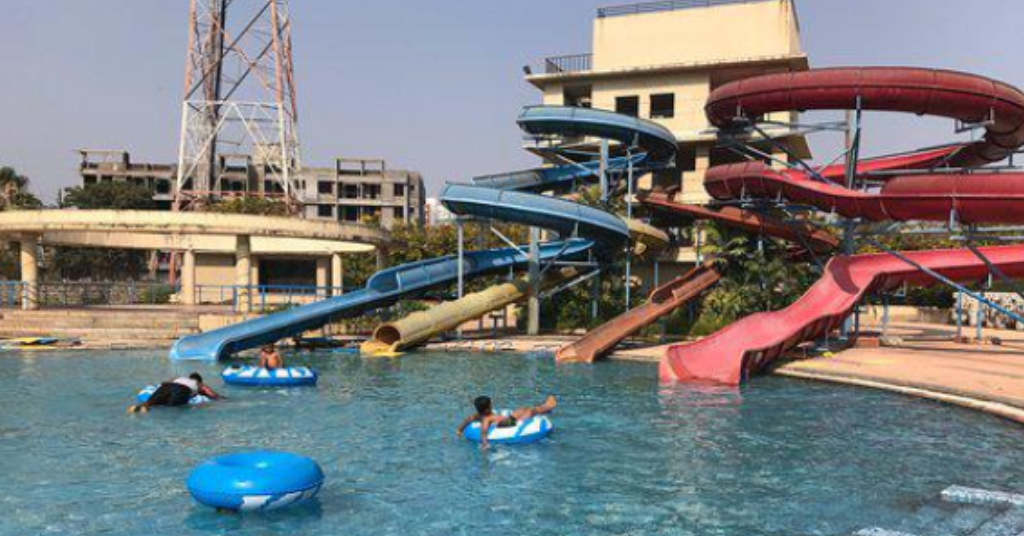 The vibrancy and the colorful atmosphere of the Sentosa Resorts and Water Park remain unbeatable. The water park cum resort is located in the outskirts of Pune and it is considered to be the best and perhaps the luxurious weekend gateway option from Pune.
Sentosa Resorts and Water Park is regarded to be one of the best ways to escape the sun's heat and relax in a cool and comfortable manner. Since the water park is located on the Pune-Bangalore bypass highway, it is a very good option, especially for weekend getaways, family vacations, corporate parties, etc.
Your kids will have a fun time in small wave pools, followed by a rain dance, DJ, cool splash, and a lot more. The water park in Pune is well-equipped with all the modern amenities for you and your kids. Do not miss the Landing Pool as it is a specially designed pool for your little swimmers.
So make the most of your kid's summer vacation at the Sentosa Resorts and Water Park.
Timings- 10:00 am to 6:00 pm.
Entry Fee- INR 400 per person.
5. Krushnai Water Park and Resort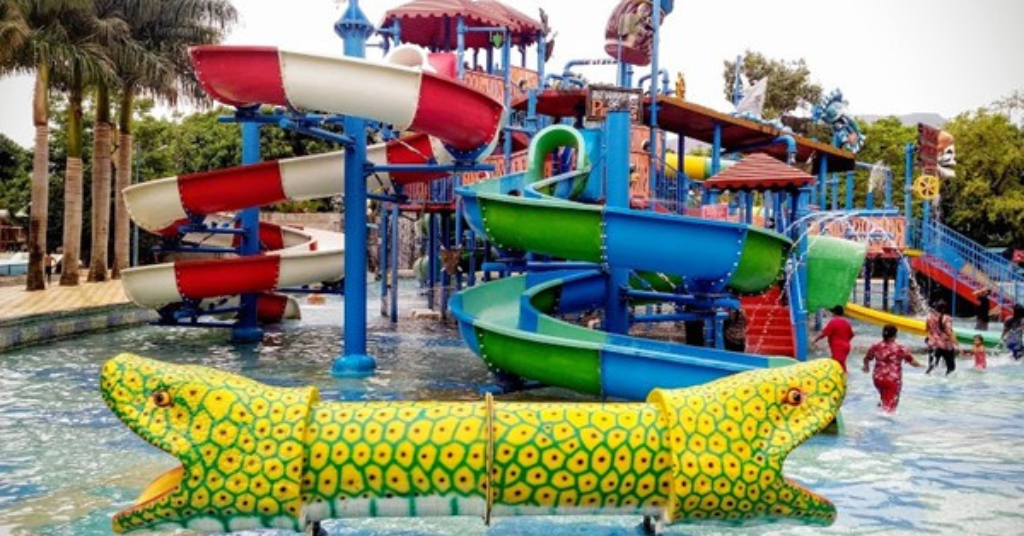 Lastly, the water park that makes it to our list of the top 5 water parks for kids in Pune is the Krushnai Water Park and Resort. The water park is widespread on lush green land and within an area of 10 acres of the land. Krushnai Water Park and Resort is situated on the Donje Gaon-Sinhagad Road near Pune.
It is considered to be one of the most popular and well-constructed water cum amusement parks for kids in the region which offers stunning views of the hills and the greenery all around. The water park for kids offers an endless number of rides and recreational activities for children and adults. Therefore, it is the best place to relax and unwind with your family. Your kids will have a wonderful time at the video game parlor where they can also play with the dashing cars, bull rides, etc.
When talking about the best and the most adventurous rides that you can take along with your kids those are- twister, black hole, wave pool, and pirate island for kids.
Timings- 10:00 am to 6:00 pm.
Entry Fee- INR 500 for kids, and INR 600 for adults.
Final Words
These are the top 5 amusement and water parks in Pune that will make your trip to the City of Marathas complete and memorable. The best part about these rides is that they are not only adventurous but also very exciting and thrilling. So, we can assure you that your kids will thoroughly enjoy themselves at these water parks.
The mercury levels are rising like crazy and nothing can be better than taking a dip and playing around with your kids and families in the water. At the end of the day, these little moments are something that you will never forget and cherish throughout your life. In case you are new to the city of Pune, you can seek help from PiggyRide and we will help you in drafting and curating your travel itinerary.
Whether you want to see the top attractions in Pune or want to explore the best theme and water parks in Hyderabad, Bangalore, Mumbai, etc, we will help you with anything and everything. To know more about our travel ideas you can visit our blog section and keep yourself up-to-date with all the latest blogs and articles that are specially curated for you and your kids.
We also offer comprehensive online courses for your kids so that they can work and amp up on their existing skills. From online abacus classes to online painting, chess, Rubik's cube classes, etc, you can check out our website for the best and most exciting online courses for kids.
To add to this, to make the most of your kid's summer vacation we have also come up with summer camps on guitar, piano, art and craft, Bollywood dance, etc for your kids. So, enroll your kids in our summer camps and let them ace in all the spheres of life.
So, get ready to splash in the water this summer break!