Introducing your kids to Yoga is a great way to bring peace and calmness into your child's life. To mark the occasion of the International Yoga Day 2022 we have prepared a comprehensive guide on yoga for kids where we will cover kid-friendly yoga poses that your kids should try in 2022.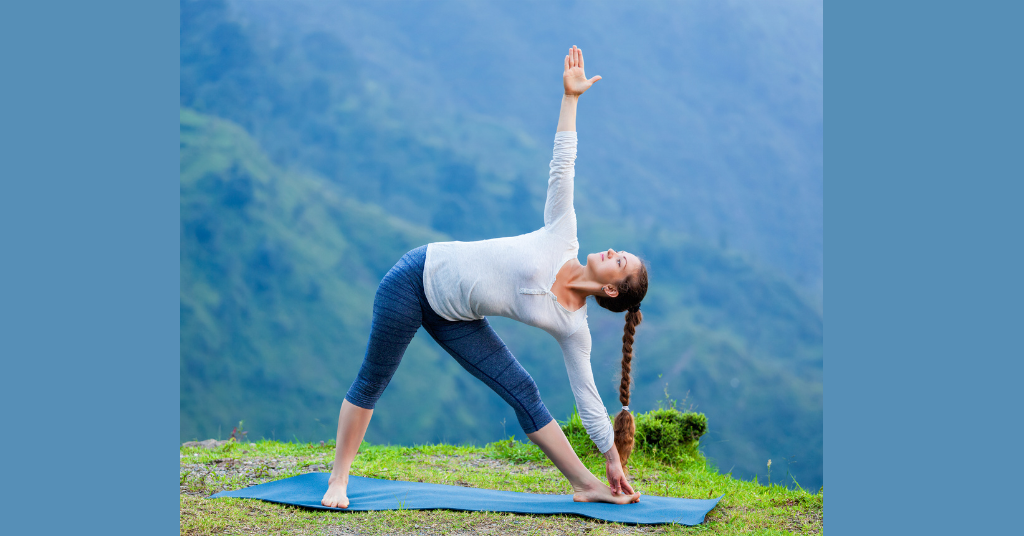 As per some research studies it was found that yoga is an effective medicine in curing stress and anxiety-related issues in kids. The best part about yoga for kids is that it is very simple and there is no need for your kids to master it. All they need to do is to include yoga in their daily routine by practicing yoga on an everyday basis.
To make you understand the value of yoga for kids we will cover the benefits along with some easy-to-do yoga poses that your kids can do without any hassles.
Benefits of Yoga for Kids
Yoga is a powerful creation of God that has the ability to unite the spiritual, mental, physical, and emotional needs of an individual thereby helping them to attain inner peace.
The best way to introduce your kids to yoga is by making them aware of it since childhood. Yoga will play a key role in the overall development of your child which is physical, emotional, social, and mental development. So take a look at some of the key benefits of introducing your kids to yoga-
a) Improves body strength and balance.
b) Enhances the quality of sleep.
c) Can reduce the release of stress-causing hormones and is very effective in treating anxiety and tension-related issues in kids.
d) Improves resilience in kids by regulating their moods and emotions.
e) Improves the quality of life by bringing in a proper emotional balance.
Keeping these 5 benefits in mind, let's take a look at a few of the easy-to-do yoga poses for kids.
Yoga Poses for Kids
1. Bridge Pose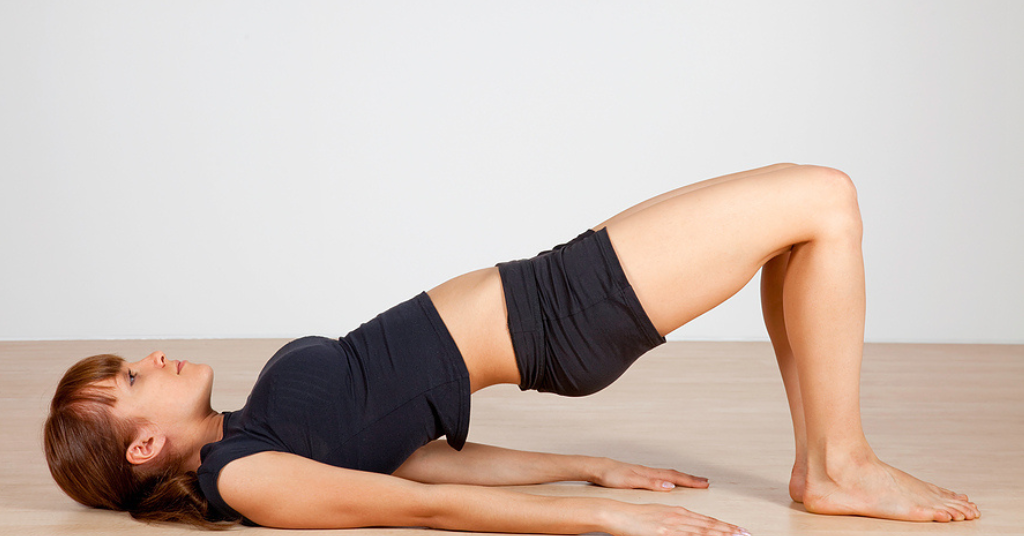 If you are planning to incorporate yoga into your child's routine make sure that you start with the Bridge Pose. The pose is very simple to do and also gives a nice stretch to the back and thighs.
Method
a) Lie on your back.
b) Make sure that you bend the knees a little and keep the feet flat and hips wide apart.
c) You also need to see that both the knees and ankles are in a straight line.
d) The arms should be placed in a resting position.
e) Take a deep breath.
f) Now gently lift the lower, upper, and middle back off the floor.
g) Make sure to balance your body in a manner that the arms, shoulders, and feet support the body weight.
h) The fingers should be interlaced and make sure that the hands are pushed to the ground.
i) Let your kids stay in that position for as long as they can.
j) Exhale and ask them to release.
Benefits
It is ideal for increasing the flexibility of the spine and strengthening the back and hamstrings.
2. Tree Pose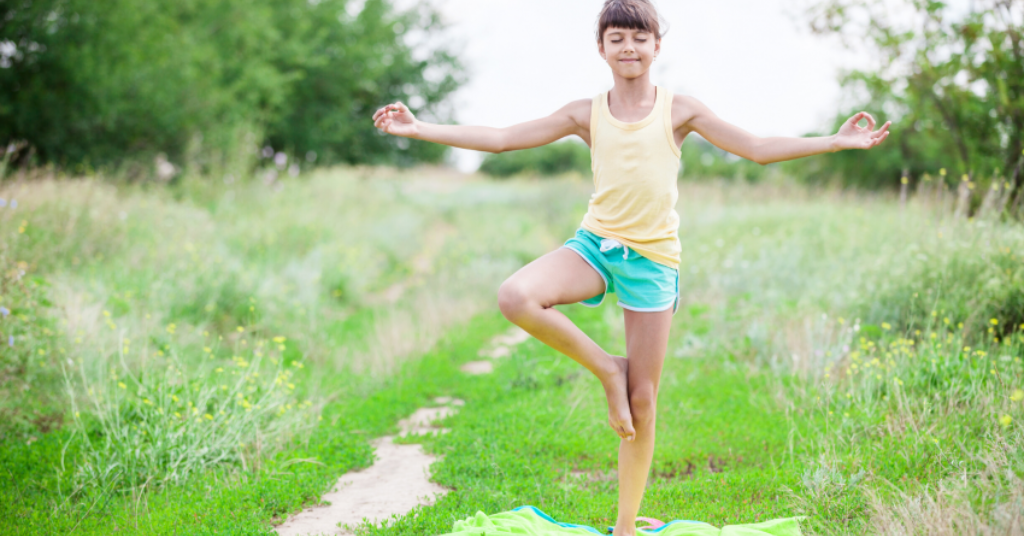 The Tree Pose is the best way to teach your kids about the importance of maintaining a proper balance.
Method
a) Start the pose by taking the position of a mountain pose where your legs and back should be straight and hands at the side.
b) Gently lift the right foot with the knee out.
c) As a next step, you are supposed to swiftly put the right foot on the left inner thigh position and make sure you are comfortable.
d) Press the hands together and they should be above the head.
e) Ask your child to stay in that position for 30 seconds.
Benefits
Tree pose is the best for improving balance and concentration. It also strengthens the muscles.
3. Easy Pose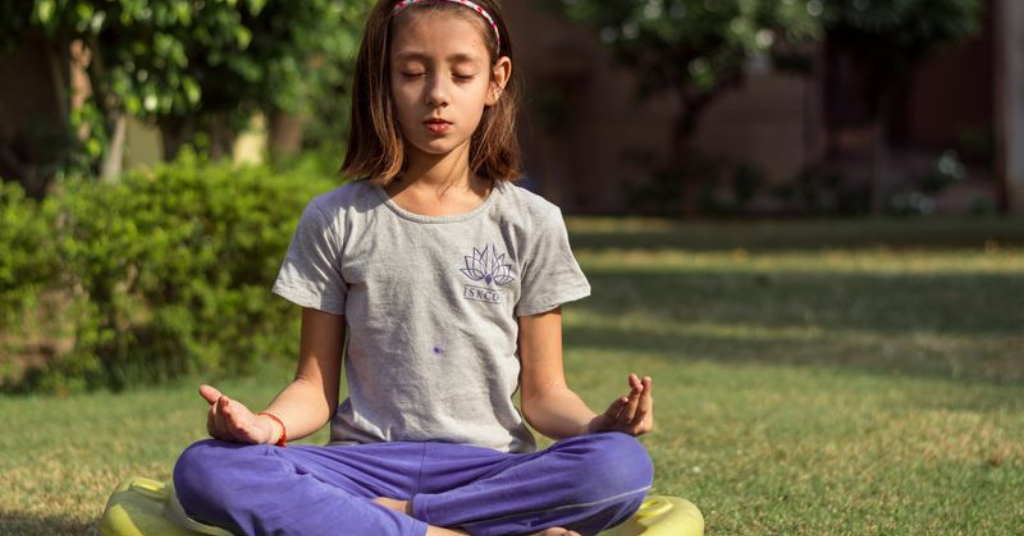 When talking about yoga for kids, an easy pose is one of the simplest poses that your child can do.
Method
a) Your child should be sitting in an upright position with crossed legs.
b) The hands should be resting on the knees.
c) You must be able to balance the weight across sit bones.
d) The neck, head, and spine should be aligned well.
e) Ensure that the feet and the thighs are well relaxed.
f) Retain this position for at least a minute.
Benefits
This is a very good asana for the back, thighs, and hips. It will also help in releasing stress.
4. Corpse Pose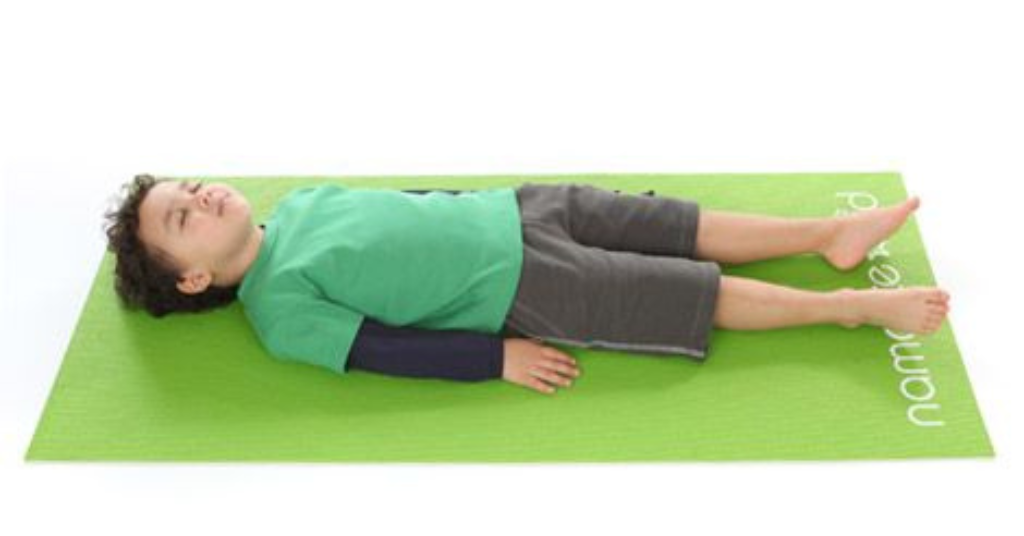 This particular yoga pose is effortless to do. However, it can pose a challenge for some as it needs patience.
Method
a) Lie on your back with straight legs and arms at the side.
b) Do not forget to close your eyes.
c) The feet drop should be kept open.
d) Breathe normally while resting your body weight on the ground.
e) Slowly exhale while relaxing.
Benefits
An idea poses for kids and is very beneficial for the proper functioning of the heart. Keeps the blood pressure low. It further helps in improving concentration, focus, and sleeping patterns in kids.
5. Mountain Pose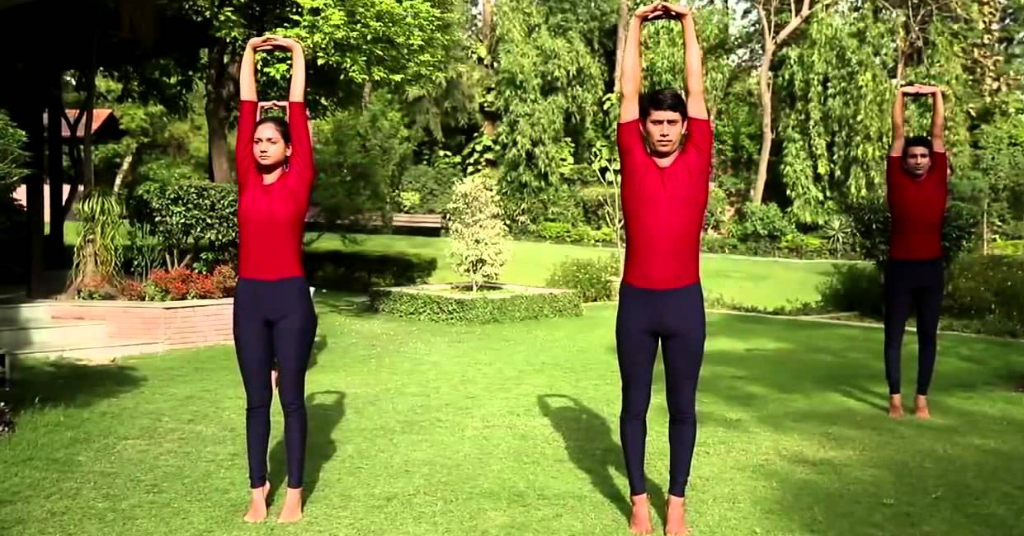 This particular pose serves as a foundation for all the standing yoga poses. Mountain pose could calm down children.
Method
a) Start the yoga pose by standing straight.
b) Spread the legs a few inches apart and carefully spread your toes.
c) Keep the arms along your body.
d) Shoulders should be relaxed and not stiff.
e) Swiftly raise the arms above your head.
f) Stay in that posture and breathe slowly.
Benefits
Mountain pose is very helpful especially when it comes to strengthening thighs, legs, and ankles. It also improves sleep.
Final Words
So if you are planning to introduce your kids to the therapeutic world of yoga, incorporate these 5 yoga poses into your kid's yoga routine. And trust us your kids will just love these yoga sessions.
Since your child is a beginner in yoga it is always better to introduce them to the easy and simple yoga poses so that they can master that in no time. Once they are able to do that then only introduce them to complex yoga poses. The benefits of yoga are countless and especially when it comes to kids make sure that you introduce your child to the world of yoga from a very young age.
The best way to do this is by enrolling them in online yoga classes. If you are looking for the best online yoga classes for kids then do check out the official website of PiggyRide.
A comprehensive online learning platform for kids that offers some amazing online courses for your little champs. Right from online yoga classes for kids to online Kathak classes, chess classes, and guitar classes are some of the best and finest online courses offered by the platform.
The best part about our online yoga classes is that your kids will be trained under the guidance of highly experienced and skilled Yoga gurus.
So this International Yoga Day, bring your kids closer to the peaceful world of yoga.