Magdalena Carmen Frieda Kahlo Calderon aka Frida Kahlo was born at La Casa Azul (The Blue House) in Coyoacan, Mexico on July 6 1907. She is one of the most famous painters in the world who hailed from Mexico. A notable artist best known for brilliantly-coloured and uncompromising self-portraits that tells a different story about identity, the human body and death. Even though she denied the imperative connection, she is often recognised as a Surrealist. In addition to her magnificent work, Frida Kahlo was also known for her tempestuous relationship with the famous muralist Diego Rivera. She married him in 1929, got divorced in 1939 and then remarried him again in 1940.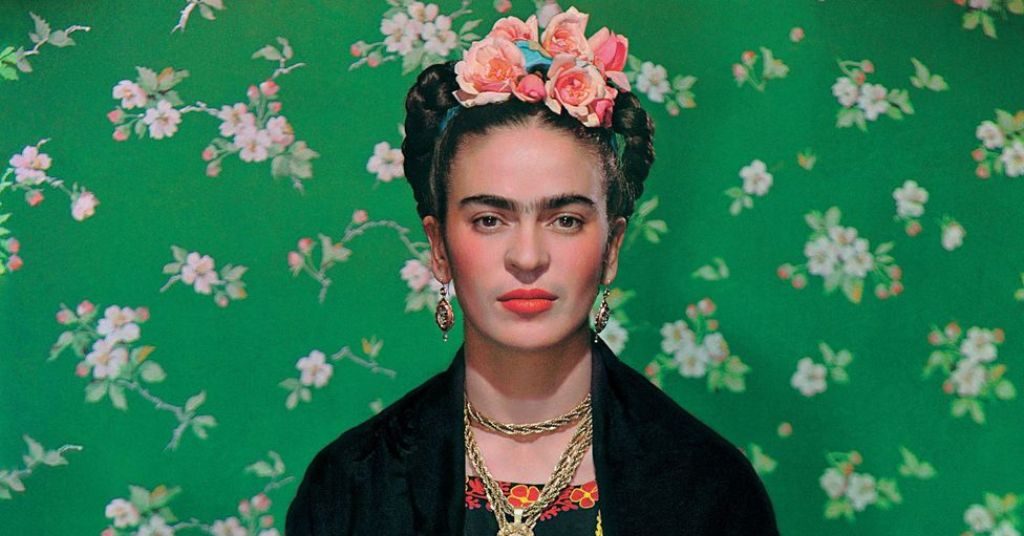 Early Years Of Frida Kahlo
Frida Kahlo was born to a Mexican mother of Native American descent and a German father of Hungarian descent. Later in life, during her artistic journey, Kahlo explored her identity by depicting her ancestry as binary opposites, her colonial European side and indigenous Mexican side. While Frida was a kid, she suffered from polio which left her with a slight limp, a chronic condition she endured throughout her life. She often depicted her pain in her paintings as well.
Compared to her mother, Frida was closer to her father. He was a professional photographer. She often assisted him in his studio, where she learned to become a detail-oriented person. Frida took some drawing classes but was more interested in studying science. In 1922, she entered the National Preparatory School of Mexico to study medicine. While pursuing her education, she met Diego Rivera, who was working on a mural in the same school.
The Accident Of Frida Kahlo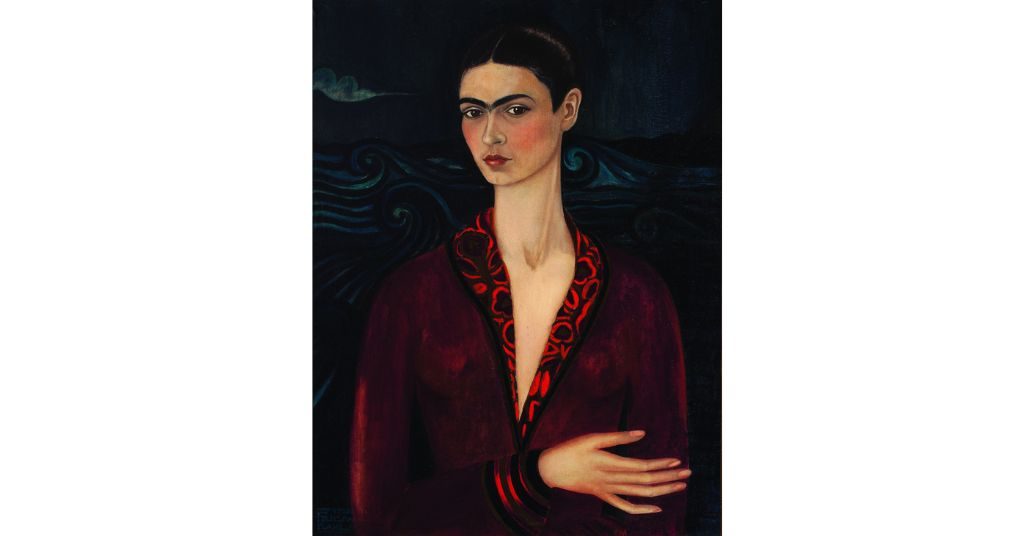 In 1925, Frida Kahlo was injured in a tragic bus accident, and due to this, she had to undergo more than 30 medical operations during her lifetime. During her recovery period while in bed, she read and taught herself to paint and study the art of the Old Masters. In one of her early paintings, Self-Portrait Wearing a Velvet Dress (1926), she painted herself wearing a regal waist-length portrait against a dark background. The stoic gaze is prevalent in her later artworks. After her recovery, Frida joined the Mexican Communist Party (PCM), where she met Diego Rivera again. She showed him some of her artwork, and he encouraged her to continue performing her exuberant art.
Frida Kahlo's Marriage With Diego Rivera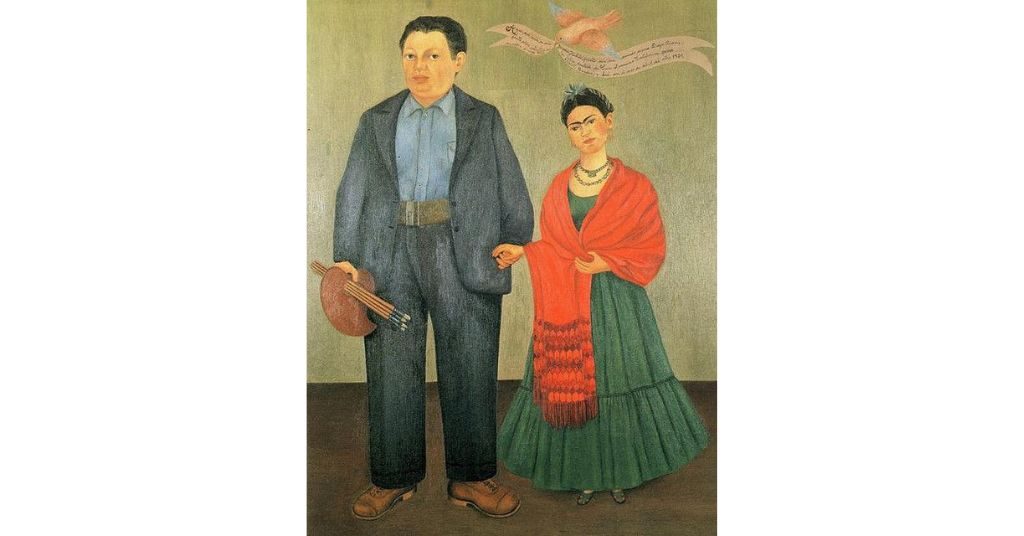 In August 1929, Frida married Diego Rivera. And soon after that, she changed her personal and painting style. She started to wear the traditional Tehuana dress that eventually became her trademark. The dress consisted of a flowered headdress, gold jewellery, a loose blouse and a long ruffled skirt. In her painting Frieda and Diego Rivera (1931), she showed not only her new attire, but also her newfound interest in Mexican folk art. In this painting, Diego appeared as a prominent artist, whereas, Frida looked demure beside him. Her hand in his hold, she had a bit darker skin, compared to her earlier works, conveyed the role she wanted – a perfect traditional Mexican wife.
Frida Kahlo's First Solo Exhibition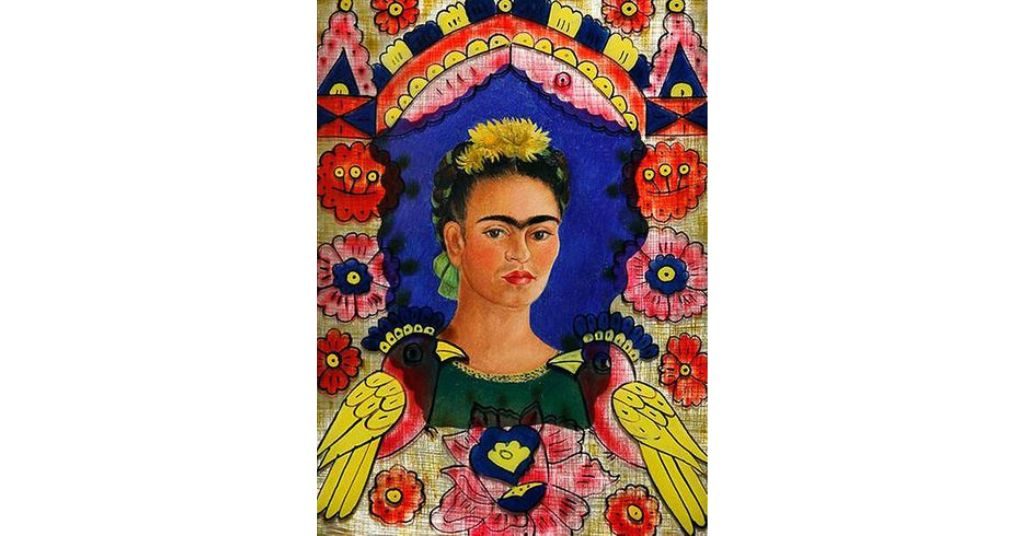 In 1933, Frida and Diego returned from America to Mexico. They lived in a newly constructed house that comprised separate individual spaces joined by a bridge. Their residence became a gathering spot for like-minded artists and political activists. The couple hosted parties for Leon Trotsky and André Breton, a leading Surrealist who championed Frida's work.
André Breton helped wrote the introduction to the brochure for Frida's first solo exhibition. He described her as a self-taught surrealist. The much-anticipated exhibition was held at the Julien Levy Gallery in New York in 1938. To much surprise, it was a great success. In the following year, Frida Kahlo travelled to Paris to show her work. She met more Surrealists there, including Marcel Duchamp. The Louvre Museum also acquired one of her works, The Frame (1938). It made Frida Kahlo the first 20th-century artist from Mexico to be included in the Museum's magnificent collection.
Frida Kahlo's The Two Fridas And Other Famous Works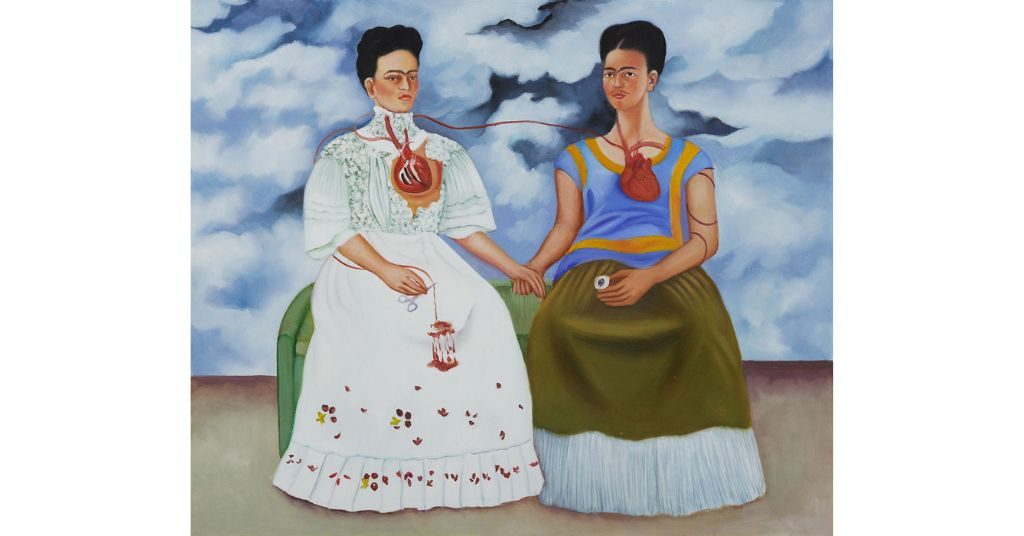 By the mid-1930s, numerous problems broke Frida and Diego's marriage, and the couple divorced in 1939. During the same year, Frida painted some of her most famous works, including The Two Fridas (1939). The large canvas was 5.69 × 5.68 feet (1.74 × 1.73 metres). The painting depicts twin figures (Two Fridas) holding hands, both of them representing an opposing side of Kahlo. The left-side figure dressed in a European-style wedding dress, a side of her that Diego Rivera rejected. And right-side figure dressed in Tehuana attire, a side of her that Diego loved the best.
In 1940, Frida and Diego remarried and moved into her childhood home La Casa Azul, also known as "The Blue House", in Coyoacán. And in 1943, she was appointed as a professor of painting at La Esmeralda by the Education Ministry's School of Fine Arts.
How Did Frida Kahlo Die?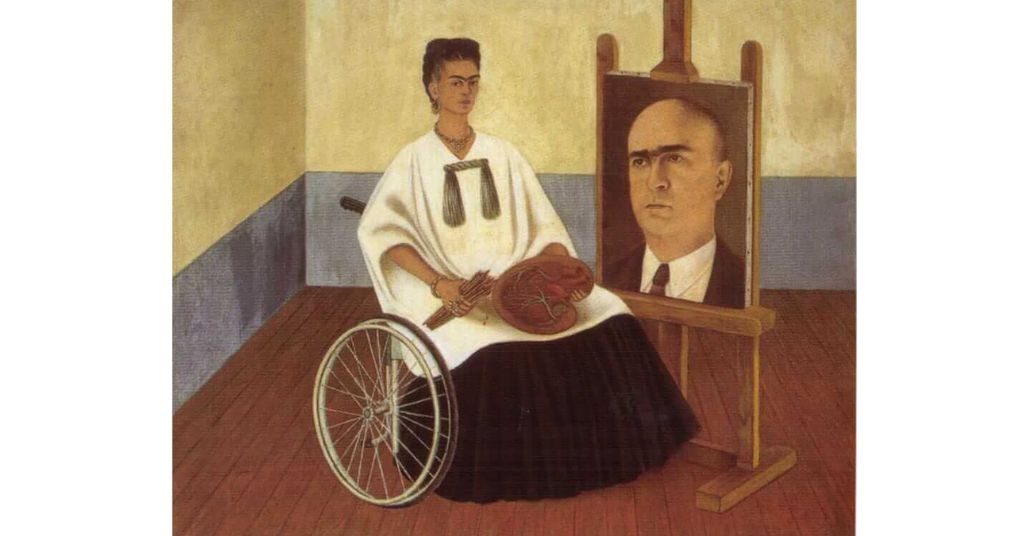 Frida never fully recovered from her accident and illnesses, and to get relief from her undying pain, she frequently turned to alcohol and drugs. She painted numerous self-portraits during the 1940s, illustrating varying hairstyles & clothing with an impassive expression and steadfast gaze. Frida underwent several surgeries from the late 1940s to the early 1950s. During her last days, she often required assistance to walk properly. In Self-Portrait with Portrait of Dr. Farill (1951), she represented herself as sitting in a wheelchair. Due to her deteriorating condition, in 1953, she attended her first solo exhibition in Mexico, lying on a bed. A year later, she died in La Casa Azul. The official cause of her death was documented as pulmonary embolism.
Frida Kahlo's Some Important & Interesting Facts
In her initial days, Frida didn't want to become an artist.
She wanted her birth to coexist with the beginning of the Mexican Revolution.
Her painting Roots (1943) set the record for a Latin American Piece of Art.
Frida Kahlo's face is on the 500 Mexican Peso Bill.
Frida Kahlo is known as the master of Self-Portraits.
Not many people believed it, but Frida Kahlo was bisexual.
She was a close friend of American artist Georgia O'Keeffe.
Two famous movies have been made about her life – Frida, Naturaleza Viva (1983) and Frida (2002).
Final Thoughts
Frida Kahlo, not much later in life, became a feminist icon through her character, activism, and art. Frida was admired as an "icon of female creativity" during the feminist movement in the 1970s. She frequently used her clothing to make a nationalist political point. Not only that but also made a statement about her rebellion and independence from feminine norms. She was and still is a role model for many people around the world. Frida Kahlo is an important figure in art history.
Moreover, if you love content that explains the story of artists, classical musicians, singers, paintings and so on, visit PiggyRide. This e-learning platform has all the solutions that you need, all the while catering to all the needs of art lovers.