Motherhood is a remarkable phase for any woman, needless to say, it comes with its own set of responsibilities at all stages of a child – from their birth to the mother's Lifetime.
Have you ever wondered how beautifully a woman plays each role and becomes proficient with it? She handles it all with her heart, be it her career, be it her home, be it her child and family or her social life. All women amaze us, be it a working mom – Who balances her work along with family or be it a lifetime homemaker – who dedicates her life for the family. Let's talk about working women today!

So, if you are a working mom, and juggling between the office and home, here are the quick tips that can help all working moms out there to maintain balance-
1. Stop Feeling Guilty:
First of all, let go of the mom's "GUILT". Yes, we come across many working moms, especially mothers of toddlers who hold the guilt of being away from the child because of work schedules. Stop paying attention to random people who judge your motherly love for not giving all your time to children. Tell yourself that you are best to choose whatsoever for yourself and your child.
"Going back to work was the first hard choice of my motherhood – But I am glad I Did it at that moment"
2. Be Organized
Whatsoever you have to do, plan it properly. set a routine, think of the flow. It may not work always 100% but will help you to a great extent. Being organized does not guarantee perfection but it sets a discipline in your life, helping you to lessen last moment disappointments.
3. Set Shortcuts & Save Time
We take shortcuts every time to reach our destinations so why not set some shortcuts in our day to day life and save some time?
Have to leave early morning for a meeting, keep something ready for lunch a night before, it will surely save your time. Have to just check emails, check while commuting (In case you are traveling by cab/metro).
We live in a digital world, save time by buying online, Grocery, poultry and everything you need. All the time you saved can be utilized to spend with your children and family.
Related Post- 9 Useful Apps For Parents To Make Their Life Easy
4. Hire Helpers/Nannies
Yes, Women can handle almost everything on their own but taking a little help from a helper for household chores or a nanny/caretaker for children or elderly at home won't harm anything. It's good if you opt for the one.
Try to be careful while you hiring anyone, go for the ones with strong references along with proper background verifications especially for nannies and caretakers. Meanwhile, make sure you have installed cameras (specifically in case of toddlers while leaving them all day with nannies).
5. Take Tips From Your Mom
Yes, tips are the savior in some situations when it comes to practice something that someone has already done before. Every time the internet won't help you to deal with a real-time situation. So, discuss or brainstorm with experienced moms/aunts or friends.
Like you are going for a 2-days conference and want to manage things in your absence. Ask someone in your circle how they dealt with it once. Nothing should hold you back to learn tricks to be a super working mom.
I have a WhatsApp group of my school friends, all married and mothers, we often share everything related to our toddlers/dealing with situations and everyone puts required inputs. It has worked most of the time for all of us over there.
Try it with your circle!
Related Post- 5 Inspiring Indian Moms Who Ace Their Instagram And Deserve To Be Followed
6. Make Family/Child Your Priority
So, what if you are working – in no means you are a slave to your work. Be open to your manager in case of emergencies back home. If your child falls sick (God forbid) he/she needs you at home right away, no doubt you have a nanny already but you have to be with your child at the moment.
I remember I was once in my toddler's school event regarding child development the chief guest was a renowned personality who in his speech said," Quit the job if it hinders the bond between you and your child". I am following this religiously in my life.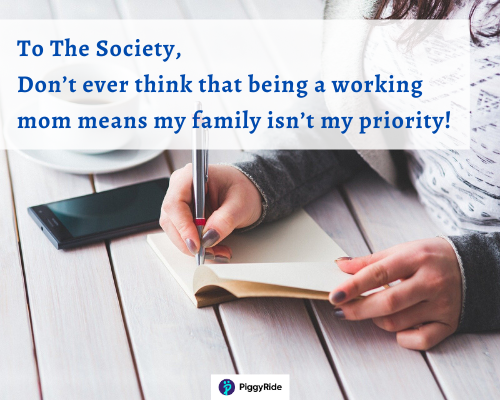 7. Take care of yourself
You are the pillar of the family, don't take yourself for granted – Eat healthily, so you have the energy to play all vital roles, look good and fresh it brings on the confidence level every time.
Are these tips helping you to relate? Do share your views and let the world know how you can conquer everything – All you need is the support of family and no judgment policy!