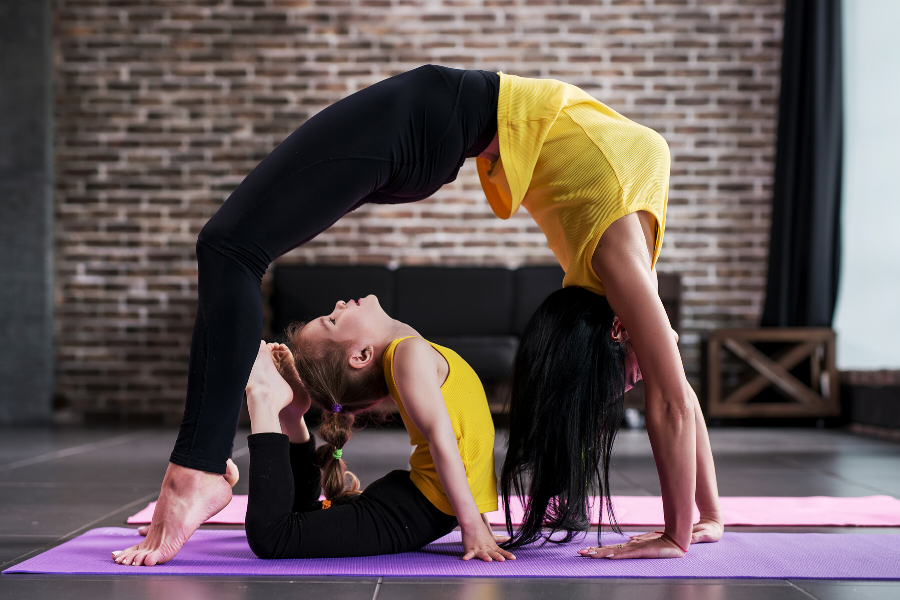 There can be plenty of concerns every parent must be facing when it comes to wishing for the wellbeing of their kids. Common things we find on the wish list are the improvement of handwriting, doing better in a particular subject, being an allrounder in academics and sports, focus on avoiding silly mistakes in math…and so on.
Often these concerns make us forget the holistic developmental approach which is the prerequisite to build a strong foundation for working out all concerns related to child upbringing. One of them is Yoga. 

Yoga is a gift of ancient civilization practices, that still proves to be the A to Z nourishment of our heart, body, and mind for adults as well as kids. Especially when kids inculcate Daily Yog in their lives, the results simply cannot be ignored.
Let us see how powerhouse Yoga can change the lives of your kids!
1. Mindfulness & Self Connect
Studies have shown that the regular practice of 'Pranayama' has a direct effect on the brain and the emotions.  Kids show higher levels of awareness about body processes and are able to exert control on themselves in unfavorable situations. It also improves their confidence.  Breathing techniques help in relaxing the kids and cope better with stress. 
2. Improves Focus Levels
A few yoga poses can be absolute fun for kids and at the same time instrumental in improving their focus and the span of attention in a particular activity. For e.g. the 'tree pose' challenges the kid to maintain balance while standing on one leg, which can be done only if the kid focuses on a target object in front for long. Regular practice of such poses can help the kid improve concentration for a longer time. 
Here is awesome news for you all, PiggyRide is conducting a Yoga Workshop for kids with a highly experienced and highly influencing Yoga trainer Mr. Pankaj Shankara.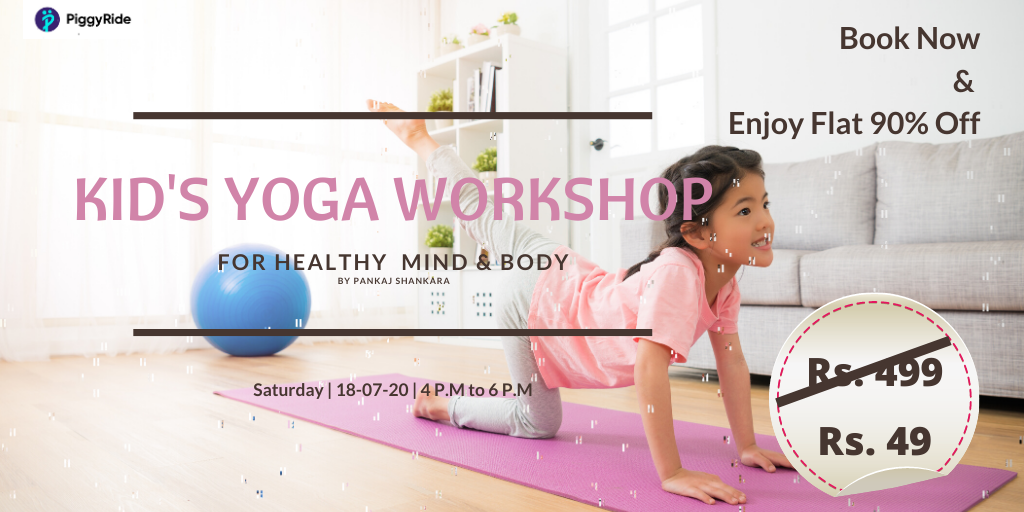 3. Body Flexibility & Strength
When the daily routine of kids starts with Yog Asanas, kids get the right dose of physical activity which results in making the body more flexible, strengthening muscles, and remarkable increment in energy levels of body and mind. The Asanas combined with breathing techniques help in improving the limb movement as well as respiratory efficiency of kids, especially those who are learning swimming (they can stay longer underwater) or actively involved in outdoor sports. 
4. Efficient Physiological Processes
Studies have proved the role of Yog asanas in improving their digestion system as well as sleep patterns. Poses like 'warrior', 'chair', 'bhujangasanas', relax the abdominal muscles, and the pelvic area by focusing on energy and circulation around them.  Also poses like the 'Bridge Pose' and 'Happy Baby' have proved to induce tranquillity of mind and improve quality sleep cycles in kids. 
5. Checks The Psychological Concerns
Kids from the age of seven to twelve, witness significant physical changes in the body including the development of sexual organs. The fluctuating levels of adrenal secretions in the body can give rise to multiple fleeting emotions and rapid mood swings in children. Often, we take it as kids being disobedient or arrogant.  Daily practice of Yoga goes a long way in addressing these issues by stabilizing the mind, keeping it focused as well as mitigating the unspoken anxieties a child can have in growing years. Experts say, yoga opens the contracted mind and heart and frees it from overthinking and harboring negative thoughts.  
6. Boosts Self-Esteem
An energized body, active mental state as well as a relaxed mind can boost the self-esteem of kids significantly. They feel good about themselves and become ready to face challenges and routine tasks more efficiently.  Yoga even inculcates the sense of discipline in children. They understand the value of perfection, as they try to perfect their poses every time. Holding their bodies in a particular pose and regulating the breaths can calm their inner turbulence, improve their poise and self-expression. 
Take Away
These are just a few of the innumerable advantages your kid can have through the daily practice of Yoga.  Parents can the most of the free time of kids by enrolling them for Kids Yoga Sessions, which are a basket of fun animal poses and breathing exercises for their overall wellbeing. 
Let us remember Yoga is not just a workout, but the perfect tonic for the divine nourishment of your kid's heart, body, mind, and soul!
Want to join our Yoga Session for enhanced immunity and better mental health. The booking window is going to get closed soon. Hurry up!