Do you want to enjoy the Netflix shows along with improving your English? Let's uncover the best Netflix series to improve your English.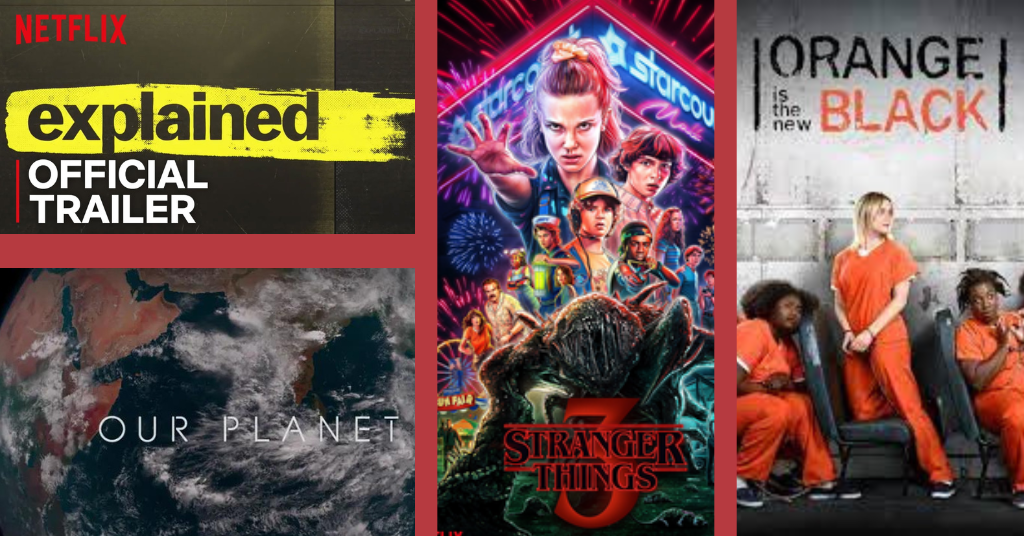 In the modern era, Netflix addiction is a real issue. However, it could be more stimulating while watching the best shows on Netflix and also work on your English. Isn't this amazing?
The pros and disadvantages of technology are both advancing daily. So, we believe that watching and learning together is a smart compromise. Furthermore, aim to enjoy yourself and practice your English. When you watch a series mindfully, you pick up new terminology and accents, which enables you to speak and write more fluently in English.
With these best Netflix series, you can make your screen-time 10x more productive. So, immerse yourself in a different culture virtually to learn a second language fluently and naturally.
9 Best Netflix Series To Improve Your English
1) Black Mirror
Black Mirror is one of the best Netflix series, and it comes on No.1 on our list. It is a modern series that showcases how modern technology can exploit,8-series- and can be used against the human race in the future. The plots of each Black Mirror episode stand alone from one another. Every episode has a unique plot and lead character. Therefore, the episodes essentially center on how rapidly developing technologies can thrust humanity into the abyss. It's one of the best shows on Netflix for learning the British and American accents. Additionally, you can pick up a fair bit of jargon, local idioms, and daily conversation.
2) Stranger Things
If you enjoy fiction, one of the best Netflix programs for you that will impress you and assist you with your English is Stranger Things. This narrative describes how federal laboratory tests went awry, endangering human lives. Additionally, several mysteries and paranormal occurrences involving individuals occur as a result of otherworldly powers. In addition, Stranger Things combines supernatural drama and themes with horror, science fiction, and kid-friendly sensibility. The music for the show is jam-packed with 80s hit songs and American lingo from that period. And if you're someone who doesn't like to read novels, go for Stranger Things. So, Stranger Things are one of the best shows on Netflix for teens to improve conversational English.
3) BoJack Horseman
BoJack Horseman is one of the best Netflix series, and it comes on No.3 on our list, which can help you learn about life along with improving English. So, BoJack Horseman is a teen animated show that addresses topics that are prevalent in modern life, such as popularity, power, name, relationships, anxiety, and sadness. Because the story is about typical modern issues, teens can relate to this show. Additionally, this story centers on a star who is battling not only the challenges of the modern society that we just addressed but also his desire to make a comeback. As BoJack and the majority of its characters are a metaphor, you can acquire a lot of new words, slang, and useful figures of speech from the show. So, it's one of the best shows on Netflix for you to improve your English.
4) Sherlock Holmes
To help you learn British English and become familiar with its vocabulary, sentence structure, conversational tone, idioms, and slang, we recommend reading Sherlock Holmes. It's one of the old and the best Netflix series for all who love watching detective shows. You'll observe how Sherlock uses his cunning and unconventional techniques to identify the perpetrator. It's one of the best shows on Netflix to watch if you want to see how Sherlock Holmes uses his cunning and awareness to catch the burglar.
5) Our Planet
If you want to enhance your wildlife vocabulary or overall conversation skills, 'Our Planet' is one of the best Netflix series for anyone. Additionally, you will see some of the rarest wildlife species and environments on the planet. It illustrates the effects of climate change on living creatures and their habitats. It's a voiced documentary series in plain English by Sir David Attenborough. In addition, Because everything in Our Planet is real, the filming process took more than 3,500 days. The Our Planet series aims to raise awareness about the need to protect the environment and natural resources because they have significant repercussions that we are not even aware of. Learn more about wildlife, biodiversity, and hidden habitats by watching this.
6) Grey's Anatomy
The show focuses on the lives of surgeon trainees, medical students, and practitioners as they become more seasoned professionals while juggling their professional and personal obligations. It is one of the best shows on Netflix which covers a variety of fresh medical difficulties as well as personal matters, fatalities, careers, and more. Furthermore, there is a lot of dialogue exchange between the various characters, which makes it easier to follow the conversation between characters. Moreover, you will learn some excellent language and terminology related to it if you are a medical student or interested in healthcare.
7) Orange is the New Black
This story is about how one woman is jailed because of smuggling drugs and how she along with her inmates deals with the system of prison. If you're a student who desires to work in community assistance, social welfare, or legal organization, do watch this show. Moreover, this is one of the most popular and best shows on Netflix. Furthermore, the story revolves around the flashbacks of how these women ended up being in jail and how they cope with the system of prison together.
8) Explained
Explained is one of the best Netflix series that talks about different subjects including the financial market, coding, health, diseases, cults, and more recent hot issues. Each of these 20-minute segments has expert interviews. Therefore, as this is a documentary series packed with 20 minutes of knowledge about a variety of topics, it will aid in your learning new terminology associated with your favorite or trendy themes. Therefore, each episode walks you through difficult concepts in straightforward, everyday language.
9) Friends
"Friends" is one of the popular and top Netflix series of all time. it's a 90s comedy TV show which consists of 10 seasons which are super-fun. The Friends TV show is about 6 friends living together under 1 roof. They go through several experiences such as flawed relationships, careers, marriages, jobs, fights, and more. You will witness the daily American English conversation. Moreover, you can learn slang, new vocabulary, pronunciation, sarcasm, and puns. In the beginning, you can use subtitles, and later you can stop using them to improve your English. Furthermore, Friends is one of the hits and the best Netflix series of all time which is full of comedy. If you have only heard about the "Friends" hype, then go for it. It's the greatest TV show to improve your sense of humor and English communication skills.
Final Words
Watching some good English shows can help you improve your basic conversational skills. Moreover, you can learn new vocabulary, learn new grammar rules, improve your pronunciation, learn about British culture, and learn about American culture. Moreover, these 8 best Netflix series range in different genres from documentaries to drama, and fiction. You're going to learn so many things from the best shows on Netflix.
Moreover, English shows are often filled with excitement and adventure, which can be a good way for kids to learn about the world. These shows can also help kids learn about the different cultures that are present in the world. Apart from it, if you're looking for online English communication classes, you can visit PiggyRide. It's a leading platform that offers online classes. You will learn from certified and professional tutors. You can also find more online classes such as online grammar classes, English handwriting classes, and more.