"If we are to teach real peace in this world, we shall have to begin with the children" – Mahatma Gandhi.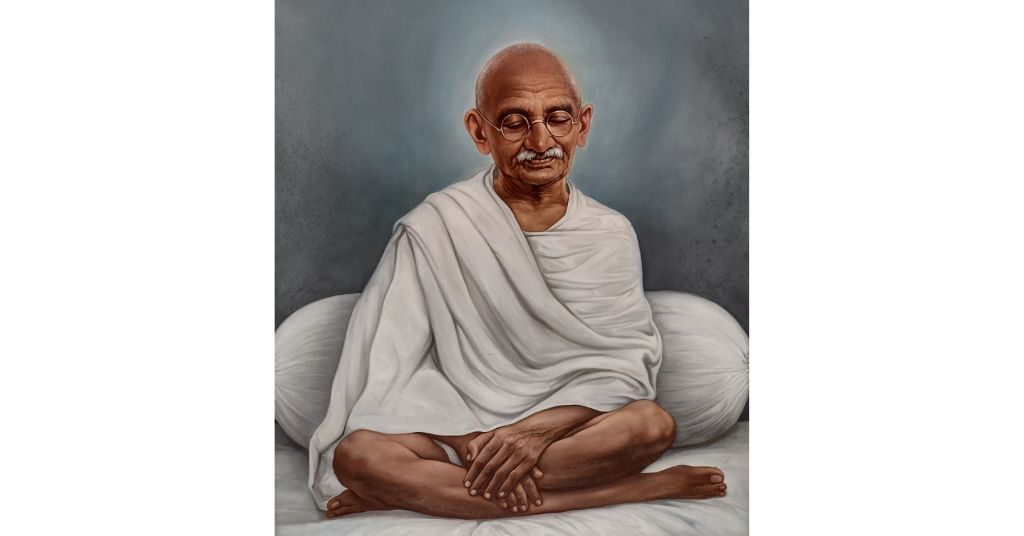 Known as the Father of Nation, Mohandas Karamchand Gandhi, born on October 2, led India's Freedom Movement with the help & support of other leaders against British rule of India. His practice of non-violence empowered many civil rights movements around the world. In honor of commemorating his contribution toward the independence of India, people celebrate October 2 as Gandhi Jayanti every year. A national holiday celebrated all over the country. Not only that but it is also celebrated as the International Day of Non-Violence by the United Nations.
Who Was Mahatma Gandhi? Why Do We Celebrate His Birthday?
Mohandas Karamchand Gandhi (aka Mahatma Gandhi) was born on October 2 1989 in Porbandar, Gujarat. He is one of the prominent leaders in the freedom fight against the Britishers. His Non-Violence Movement, the resistance to opt brutality against Britishers at that time, was one of the most inspired civil rights movements that people still adopt when needs arise around the world.
Mahatma Gandhi completed his law degree at the University of Bombay for one year, then at the University College London in 1891, and later on, admitted to the bar of England. He lived in South Africa for some time, and after his return, he joined Indian National Congress (INC). He led many nationwide campaigns for peasants, laborers, and farmers to help them get justice. He also took an active part in fighting against caste discrimination and providing women with their deserved rights.
Not only that, he led some of the historic movements in India's freedom struggle, such as breaking the salt law through the Dandi March in 1930, this movement helped Indians believe that they could challenge Britishers and the Quit India Movement in 1942.
Mahatma Gandhi always believed in religious pluralism, a belief that people from all religious diversity live peacefully in a society. He dreamed of India being a secular nation, he fought for it till his last breath too.
Mahatma Gandhi was killed by Nathu Ram Godse on January 30 in 1948 just a few months after India got independence.
6 Activities For Kids To Make Gandhi Jayanti More Fun
Since Mahatma Gandhi is known as the father of the nation, people and the believers of his ideologies around the world celebrate this day by applying their own versions. Although October 2 is a national holiday, many schools celebrate it with skits, speeches, dance, singing, and so on. Here are some of the activities that kids can do to make Gandhi Jayanti more fun and entertaining:
1) Dress Up Your Kids Like Mahatma Gandhi
The most enduring characteristic of Gandhi's personality was his simplicity. This Gandhi Jayanti, give your little ones a little bit of makeover and turn them into Mahatma like him. It's a good learning process, considering he used to wear white dhoti and not many people know how to wear that. 
To get the bald look, either you can use a skin-colored swimming cap or a flesh-colored cloth to wrap around their heads. For the exact look, give your kids a long walking stick and round spectacles.
2) Pay A Visit To A Museum
What more can tell history in a better way than a museum itself? It is a great place to invoke kids' curiosity and help them watch, read, and understand the struggle for the freedom of India. The process help kids comprehend the role of Gandhi in India's freedom struggle. After getting back home, you can also play a quiz and ask your kids what they have learned from their little museum trip.
3) Introduce Your Kids To The Charkha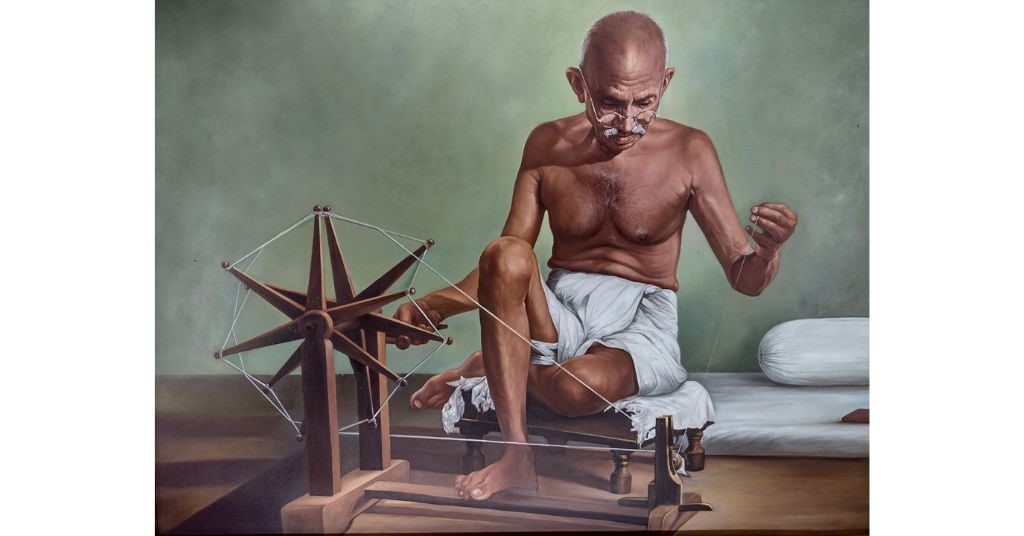 With the changing time, kids are more inclined to learn about the latest trends and most probably are not aware of Khadi or Spinning Wheel (Charkha). We have often seen many pictures where Gandhi was spinning the wheel to make yarn. Introduce your kids to Charkha and make them understand why Gandhi liked to spin it every now and then. If possible, try to urge them to wear Khadi fabric because it's eco-friendly and protects the environment in its own way.
4) Tell Kids About The 'Three Wise Monkeys'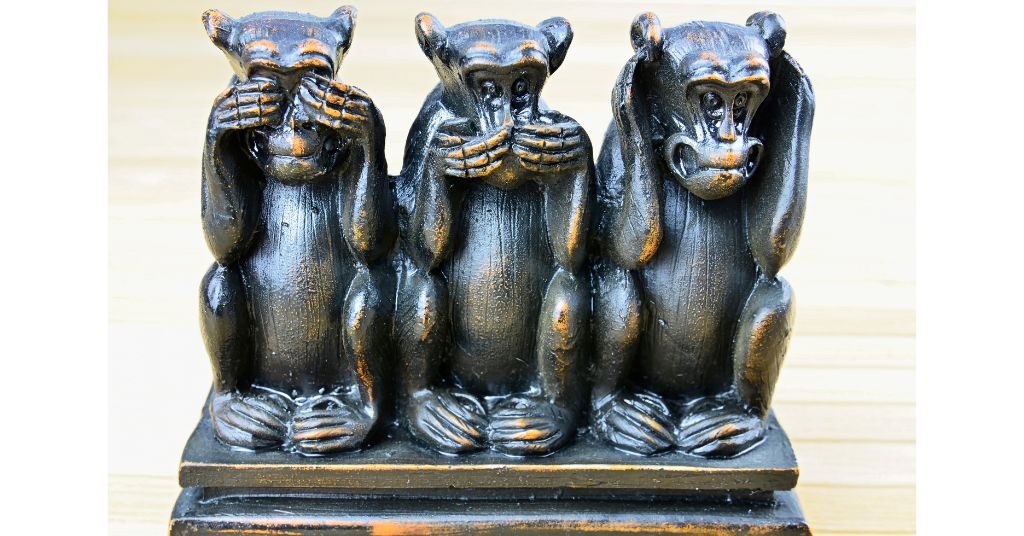 The meaning of the Three Wise Monkeys is "See no evil. Hear no evil. Speak no evil." It's a cultural symbol that originated in Japan. A small statue of three wise monkeys was given to Gandhi by a Japanese monk. Since then, it became a visual metaphor for his message of peace and tolerance. Teach your kids about its importance and how they can adopt it in their life.
5) Indulge Kids In Arts And Crafts
Arts & Crafts is perhaps the best activity to let your kids indulge in the occasion no matter the function. It gives them the opportunity to show & express what they feel about the occasion. They can prepare some drawings, images, and posters illustrating the significance of Gandhi Jayanti.
6) Make Them Write A Speech
With everything they have learned so far, make them write a speech emphasizing why we celebrate Gandhi Jayanti. Elaborating who was Mahatma Gandhi, his journey of becoming a Mahatma, his freedom struggles, how he took part in various movements and their results, his contributions, and everything in between. The process will assist them to grasp the knowledge in a better way. 
Final Thoughts
Kids these days do not know about Gandhi as they should. This Gandhi Jayanti, involve your kids in these activities and help them understand his ideologies, his message about peace, applying non-violence in impossible situations, and his way of uttering truth to power. Create fun games and do everything that makes this day both memorable & thoughtful and teaches your kids who our father of the Nation was.
Moreover, if you are looking for assistance to create some special DIYs, arts & crafts, a better speech maybe, or anything in between, visit PiggyRide. The platform offers a comprehensive list of options for your little ones to explore in order to find their interests. Not only that, kids can attend free Workshops to gain new skills every week or sharpen their memory skills by taking part in varied online quizzes.